Dr. Daniel Pompa is a respected leader in the field of functional medicine, educating practitioners and the public on the origins of inflammation-driven disease, the therapeutic application of the ketogenic diet, fasting, ancestral-based health approaches, cellular healing, and detoxification. Dr. Pompa received his undergraduate degree in communication from The University of Pittsburgh, and his doctor of chiropractic degree in 1995 from Life University. He is the author of the books Cellular Healing Diet and Beyond Fasting and he hosted a weekly Cellular Healing TV Podcast and YouTube show.
Dr. Pompa's powerful presentations focus on ancient fasting strategies, cellular detox, his multi-therapeutic approach to healing, and common, but frequently misdiagnosed autoimmune, hormone, and neurodegenerative conditions. Dr. Pompa's own story, which he has titled "From Pain to Purpose…to Promise," unveils how his health struggles, family tragedy, and legal battles have transformed him into a powerful health and longevity evangelist which led him to fulfill his purpose.
TOXIC HEAVY METALS HAVE BEEN LINKED WITH A LARGE NUMBER OF AILMENTS WHICH AFFECT HUMAN PHYSIOLOGY INCLUDING:
Heart disease: Angina & chest pains; arrhythmias;
Heart attack; stroke
Hypertension (high blood pressure)
Diabetes
Heavy metal toxicity
Chronic fatigue
Fibromyalgia & autoimmune disorders
Leg cramps / walking problems
Hearing / vision loss
Shortness of breath
Hormone dysfunction
Erectile dysfunction
Poor circulation / cold feet and/or hands
Slow-healing sores
Product Quality
&

Efficacy

is Detoxcream's Top Priority
About Heavy Metal Toxicity
30 Second video on how Detocream's EDTA Chelation therapy cream can help remove lead toxins enabling you and your family to Live A Better Life.
A Gentler
&

Effective Way

To Detoxify Your Body from Heavy Metals like Lead. Our EDTA Chelation Cream helps you detoxify poisonous metal in the comfort of your home.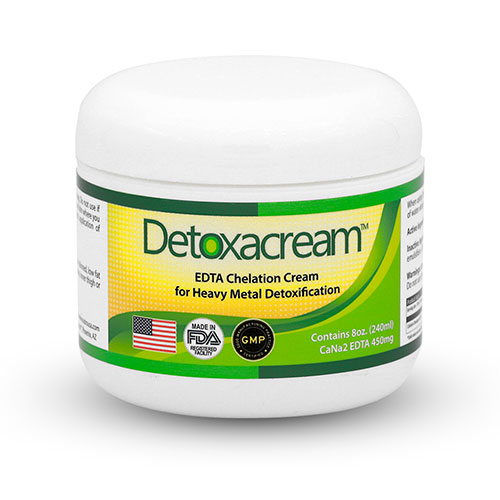 Buy Now
Thanks for Your Support. Use Coupon Code jaco1 at checkout to Receive an Additional 10% Discount
WHAT IS THE MINUMUM TIME UNTIL EFFECTIVE?
Because Detoxacream is a lower dose than prescription versions, it takes a minimum of 3 months, 6 months is ideal, and one year is best. If you use it for just one month, it will not really be that effective.
HOW DO I KNOW IF EDTA CHELATION THERAPY IS WORKING?
Your health problems didn't develop overnight and it will take time for them to improve. When trying to reduce the level of toxic metals from your body, you can have a urine analysis performed to measure the level of various metals in your body. After three months of using EDTA, the test can be repeated to measure how far your toxic metals levels have dropped. If you are attempting to clear arterial plaque, your doctor can perform numerous tests including measuring your blood for lipids, C Reactive Protein (CRP), homocysteine, etc. Also EKG's and other diagnostic physical tests can be performed to measure heart health. Again you aren't looking for a quick cure, but sustained steady progress. If you suspect you have any medical condition, you should see your physician to receive a conclusive diagnosis. Information on this website is not intended to diagnose or treat any disease or be a substitute for professional medical care. Hopefully you can find a doctor who looks favorably upon diet, nutrition, and alternative therapies as an option instead of relying solely pharmaceuticals with potential side-affects.
CAN EDTA HARM ARTERIAL STENTS OR OTHER METAL OBJECTS IN THE BODY?
EDTA only binds to oxidized (positively charged) metal ions that are already dissolved and present in body tissue. Arterial stents, joint replacements, metal plates, etc. are made from high grade stainless steel, titanium, or other precious metal alloys that will not oxidize or break down in body fluids or tissues. You can safely use EDTA without fear of causing problems to implants.
HOW IS EDTA CHELATION CREAM DIFFERENT FROM IV CHELATION?
Chelation works best when the EDTA is introduced into the body without going through the GI system. While IV chelation is optimal, it is invasive (mandatory physician supervision), expensive and time consuming. Transdermal application of EDTA bypasses the gastrointestinal system and absorbs directly into the body through the skin. While the concentration of EDTA is lower, it is still extremely effective and a fraction of the cost of IV treatments, moreover, you can do this in the comfort of your own home.
IS EDTA SAFE?
EDTA is heavily used by food manufacturers and the medical industry. It is FDA approved as a preservative for blood and is so safe it's even used in baby food. Just in the United States alone, over two-hundred-thousand children have been treated with EDTA for lead poisoning. In Europe, hospitals use EDTA as a standard treatment for kidney stones.
IS DETOXACREAM OK FOR CHILDREN?
Yes, Detoxacream is safe for children but we recommend using it on children 5 years old+.  If you're pregnant, don't use Detoxacream.
CAN YOU DO MORE THAN THE DAILY RECOMMENDED DOSE?
Yes, a typical I.V. Chelation session has about 2500mg of EDTA where our lower dose is only 45omg so you can apply it a few times a day if you want to speed up your results.
IS DETOXACREAM A DRUG?
No, Detoxacream is a wellness cosmetic that has no drugs, colors, fillers, or perfumes.  Disodium EDTA which is synthesized vinegar and is used in many of the product you use today.
HOW LONG CAN I TAKE DETOXACREAM?
Many of our customers have incorporated Detoxacream into their daily regiment as long as you follow the instructions like taking a multimineral and drinking an adequate amount of water daily.
WHERE CAN I BUY DETOXACREAM?
You can purchase Detoxacream on our website at www.detoxacream.com/shop or on Amazon (just type in Detoxacream on the search bar) or through one of our online retailers.
WHAT IS CHELATION?
Chelation therapy has been used for almost a century to combat elevated levels of heavy metals in the human body. First discovered by German scientist Ferdinand Munz and later used to treat workers who had painted US Navy ships, EDTA chelation therapy has been proved to be an extremely effective treatment in patients.
WHY DO I NEED TO DO CHELATION THERAPY?
Everyone needs chelation therapy. Human beings all over the world, regardless of location are exposed to heavy metals daily. As recently as 2016, news reports have identified elevated lead levels in the water supply for places like Flint, Michigan and Atlanta, Georgia. The human body does not have a mechanism to rid itself of heavy metals such as lead, mercury, arsenic, cadmium and even uranium. Chelation is a treatment which, when the agent is introduced into the bloodstream, clings to heavy metal molecules and then carries them out with normal body waste.
WHERE DO I APPLY DETOXACREAM?
Rub Detoxacream on thin skinned areas of your body like your inner arms, legs.  You can also apply on you stomach.  It is not recommended to put on your face.
HOW DO I KNOW IT'S BEEN APPLIED CORRECTLY?
Detoxacream's base is like a moisturizing cream.  When the cream is first applied it is white.  Once you start rubbing it on your skin, when the cream changes from white to clear, it has been applied correctly.
CAN EDTA POSSIBLY HELP WITH ERECTILE DYSFUNCTION (ED)?
Medical research has shown that ED (erectile dysfunction) can be an early warning sign of more serious problems, such as coronary artery disease. Some medical professionals have suggested that men seeking treatment for ED should also be screened for coronary health. Since some patients have reported that EDTA has helped with cardiovascular function, it stands to reason that ED caused by blood flow problems might be helped. While there have been no comprehensive medical studies of using EDTA for treatment of ED, there is anecdotal evidence to suggest it may work for some individuals.
WHEN IS THE BEST TIME TO APPLY
You can apply Detoxacream morning, afternoon, or night.  Just be sure you wait 4 hours to take a multi-mineral which is required as part of the treatment.  Many of our patients take it after dinner and the multi-mineral before they go to sleep.  Others take it after brushing their teeth and take the multi-mineral in the morning.
HOW LONG UNTIL I START GETTING RESULTS?
Typically, we say you should apply Detoxacream for at least 3 months, 5 times a week.  6 months is Ideal and 1 year is best.
WHEN IS THE BEST TIME TO APPLY DETOXACREAM?
Before you go to bed, right before of after you brush your teeth.  It's also mandatory to take a multimineral in the morning to replace the good minerals chelated out with the bad ones.
WHERE IS DETOXACREAM MADE?
All Nutrousa Health and Wellness Products like Detoxacream are made in the U.S.A.  We manufacture our products in Southern California in an FDA registered facility.
DOES DETOXACREAM HAVE THE GMP SEAL?
Yes, All of our products have the GMP Good Manufacturing Practices seal of approval.
.
Detoxacream | PompaProgram | Copyright 2022